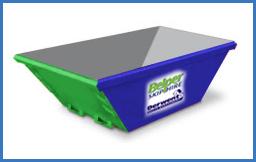 12/14/16 Cubic Yard Skip
These skips range in size from 12 to 16 cubic yards and are open top.
These skips are suited to larger sites and jobs, and can hold large mixed quantities of bulky
domestic or commercial waste, including, timber, dry non-hazardous waste, contaminated soils
and general recycling or waste. The 'Jumbo' skips vary in weight depending on which you choose to go with.