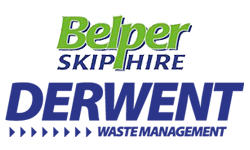 Derwent Waste Management, and our sister business Belper Skips Ltd, is a fast-growing waste management and recycling company based in Alfreton, Derbyshire.
There are two sides to our services:
We provide a professional skip hire and collection service to both private and business customers, and we recycle industrial waste products into aggregates and card boards for sale at home and abroad. Click here to read more about our current team and company profile.
Skip hire
We offer a fleet of skips of different sizes for use by industrial and construction clients, as well as for domestic use. All the materials and old appliances we collect are processed and separated at our recycling centre. The constituent materials are then recycled where possible, or disposed of in a safe and environmentally responsible way.
Recycling services
Our goal is to convert industrial debris and waste products into useful materials. We use sophisticated recycling and processing technologies to create a range of industrial aggregates and recycled cardboard products. This extends the useful life of many commonly used materials, and reduces the amounts of waste that goes into landfill sites.
Environmental responsibility
Every business has a part to play in creating a sustainable environment for our own and future generations. We work with leading waste management companies such as Biffa and Sims Metal, as well as a number of local authorities, to reduce waste and increase the market for recycled materials. Click here to read more about our environmental policy.
Don't throw money away
We process: wood, cardboard, plastics, paper, metal and hard-core. We are always looking to purchase these waste products from local businesses at competitive rates. Please get in touch to find out more.
You can trust us
One of our directors has gained his WAMITAB certificate (Waste Management Industry Training Advisory Board), all drivers hold a valid CPC driver card, we have 5 ST John trained First Aiders on site. Our staff is a mixture of both male and female in the offices and on the picking line, and we have our own transport Manager who holds a certificate for both National and International CPC. All staff wear full PPE.
Find out more
If you have questions about recycling, or would like to enquire about skip hire, please phone our team on 01773 830050 or 01773 607079, or email dwmsales@btconnect.com .