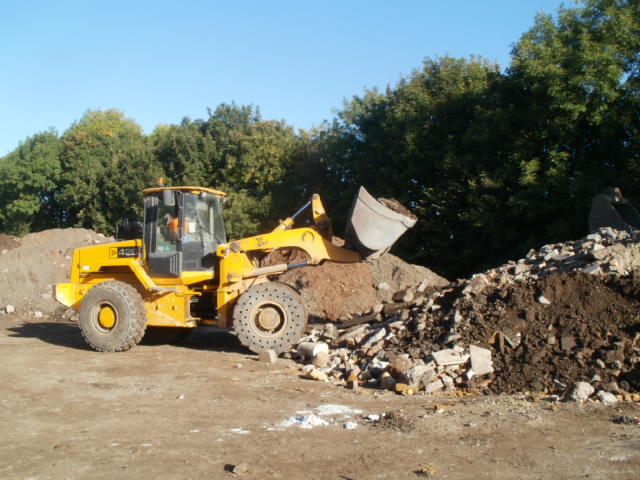 We can supply a wide variety of primary and recycled aggregates such as 6F2, Limestone, railway ballast etc. We supply a vast majority of our aggregates to construction companies, builders, general public road works etc. These can be supplied in any quantities to suit the individual. Our customers can collect direct from ourselves or we can deliver out to the customer via Tipper, Grab or skip lorry's, and cover an extensive area across the Midlands. We offer a comprehensive range of products at competitive prices. For further information please call.
Derwent Waste Management produce all manner of aggregates for virtually any construction or road-related use. Our ability to offer a full service for earth works and cart and tip benefits all of our clients, whether you are located in Derby or the surrounding areas.
Our recycling facility offers excellent resources for the intake, processing, crushing and recycling of demolition and construction waste into quality aggregates. These aggregates can then be used for alternative quarried material. Everything we recycle and produce meets industry standards.
Road Planings
The aggregates that we create offer our clients a cost-effective means to cover car parks and driveways. Called road planings, they are what's left once roads have gone through the resurfacing process, and so contain crushed or milled bitmac or asphalt arisings.
Demolition Waste
Demolition waste in the form of crushed brick, concrete and hard-core can be used to lay on the bottom of roads, or used to construct entire paths where industrial roads are needed.
Products We Produce
Our aggregate recycling process can produce several aggregate products, including:
Type 1 sub base for use as a tarmac base or highway use;

Single-sized aggregate made of concrete, gravel and brick;

Screened topsoil used for commercial landscaping purposes;

Washed or sharp sand used in block paving or general construction.
We can also offer new quarried aggregates from 6mm free from dust up to 350mm free from dust which is used from driveways to drainage jobs.
We can also offer new quarried type 1 sub-base. Please call us for your requirements.
Contact Us for More Information
We offer a wide range of waste management, recycling, processing and skip hire services. We welcome all enquiries. You can reach us via email on our contact page, or give us a call on 01773 830050 or 01773 607079.